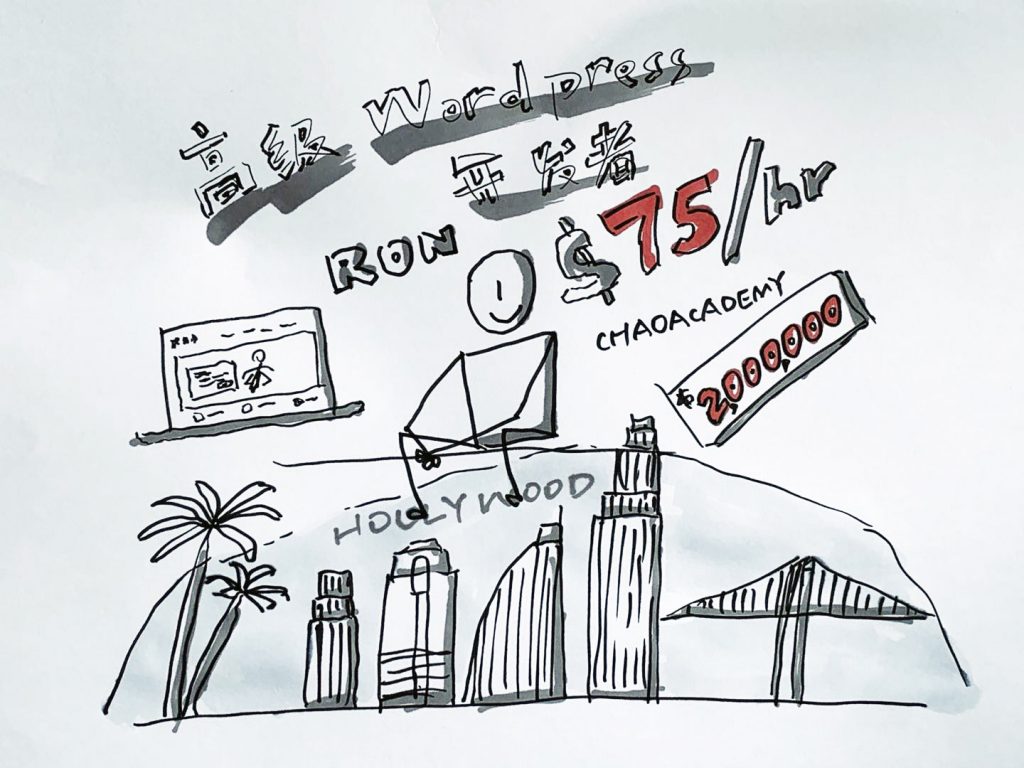 More...
今天介绍的主人公Ron,是我们一个学员Leo的学习、模仿的标杆。
WordPress的建站开发,是可以获得高收入的。
Ron超过5000美金的项目将近有100个,最大的项目将近9万美金。
Leo已经突破了8000美金,现在向更高的目标在努力。
下面,让我们快速看看Ron的一些基本信息。
收入:2008年至今年总收入200万+美金(估算当前年收入在20多万美金)
坐标:美国洛杉矶
Title:Premium WordPress Development
技能:WordPress、PHP、HTML5、jQuery、MySQL、WordPress Plugin、PSD to WordPress、JSON、API Development、Google Maps API
小时费率:目前稳定在75美金/小时
平台:Upwork
链接:https://www.upwork.com/o/profiles/users/~01402d7c862810a63c/
个人网站:Presshive.com
Overview:
I am a Los Angeles based web developer specializing in high quality WordPress development. From custom theme designs to E-Commerce and custom plugin development, I will help you transform your personal or business concept into a successful WordPress based website.

For the past 11 years I've been involved with all sorts of clients, from personal bloggers to Professional Athletes, Universities, and Fortune 500 companies such as Verizon, Virgin, Google, Pitney Bowes and Cisco.
在个人品牌网站上的个人介绍:
I am a Los Angeles based WordPress Developer. From enterprise to eCommerce, every custom WordPress website is delivered with the care and precision that only an experienced freelancer with a decade of experience could deliver. My portfolio represents the best in WordPress development standards and the highest level of delivery quality. Hire a freelance WordPress designer you can trust.
他的使命和特点(哎哟,还有拼写错误:)但这并不影响一个开发者的权威)
We had a vision, and Ron helped us "dream" bigger, and he has helped us accomplish more than we ever imagined possible b/c of his coding skills. When I say that there is nothing that Ron can't do, I do not think this words even exploe how skilled he is but what sets Ron apart from so many other skilled developers, is not only his communication skills, but his ability to do things so quickly. Ron has NEVER let us down, NEVER lied to us, and NEVER over promised and under delivered. If I could describe Ron and his skills in 1 word, it would be "UNBELIEVEABLE."
业务介绍,很值得学习:
Custom WordPress development starts with an understanding of your unique business goals. As a Los Angeles WordPress Developer, my main objective is to build you a rugged and long-lasting website that's easy to manage and focused on lead generation. To do this, it starts with understanding your business objectives.
By understanding your objectives, I can develop the customized strategy needed to help you achieve your goals, while simultaneously exceeding your expectations. As a WordPress Freelancer, the next step in a website project is to find the best resources. There are countless resources and design choices that must be carefully considered, including image selection, site font, colors, and page hierarchy. From the initial consultation meeting to the final site review, I am invested and dedicated to helping your vision come to life.
他的使命、定位、他的心声:
For almost a decade I have dedicated myself to helping individuals and organizations make their digital visions a reality through high quality and optimized WordPress sites. I have worked with professional athletes, universities, mom-and-pop businesses, and Fortune 100 companies, including Cisco, Google, Pitney Bowes, Verizon, and Virgin. No matter the size of the company, I bring a heightened level of custom development expertise, passion, and commitment to each project.
Living in the hub of the West Coast has taught me the importance of building lasting relationships, which is why I want to become your go-to developer for life. I will use my experience, industry knowledge, and understanding of your unique challenges, goals, and needs, to give you the digital tools that you need to succeed.
个人经历
Employment history
Owner | Presshive.com
January 2008 - Present
Presshive is a Los Angeles based firm specializing in high quality WordPress Development.

CEO | PlanJam.com
January 2006 - August 2009
The PlanJam tool offers users a custom plan, personalized by the type of planner, desired experience, time of day and location, resulting in a point-to-point... more

Education
Bachelor of Science (B.S.), Business Administration | University of Southern California
2004 - 2006
Graduated Magna Cum Laude with my focus in Entrepreneurship.
超哥短评:
2006年南加州大学,本科怎么才两年?
2006-2009做工具站点。
2008年开始自己的Wordpress开发品牌,Upwork是他的一个渠道,个人名义接单。
12年里,在upwork接单金额超过200万美金,773项任务,平均每年60多单,平均单价接近3000美金。
Ron 最大的项目有89225美金。

超哥越数越兴奋,这哥们儿,目前(2020年5月22日)居然有97个项目金额超过5000美金。
Fabuuuuuuuuuuuuuuuuuuuuuuuuuulous!
2008年开始接了一大堆小单,大部分为固定费率。解决诸如添加Paypal按钮、CSS调整、Layout、Host迁移之类的小问题。
逐步增加了小时费率的项目,费率基本在$50-82/hr之间徘徊。
2014年之后小时定价稳定在$75/hr。
Leo在起步的时候,仔细研究了Ron掌握的技能、提供的服务、客户的特点,模仿Ron的路径,学习Wordpress的相关技能,结合中国市场的优势,逐步站稳脚跟,不断在超越自己的目标。

Ron的平台成长故事对你有什么启发?欢迎留言讨论。
高手分析
在超哥迷你创业精英俱乐部,你可以找到足够多的高手分析,帮助你的迷你创业快速起步、发展和加速。