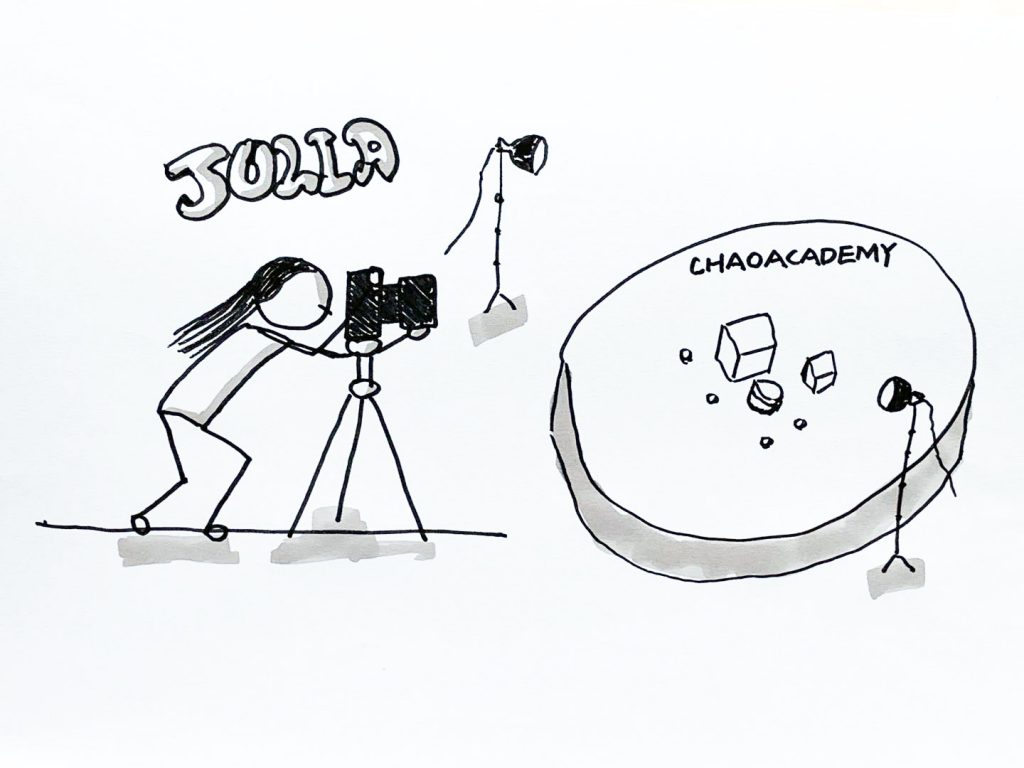 毕业的第一天就是自由职业者,三年之后有了自己的工作室。
—— 程超
超哥商学院
More...
Julia是加州出生、长大、学习,现在生活在纽约的摄影师。
她2011年大学毕业就开始自由职业,帮助其他摄影师配合工作,2014年成立了自己名字的摄影工作室。
通过Upwork平台接单经历,我们可以发现不少值得学习的东西。
静物摄影师 Julia 的基本信息
收入:近18万美金(17个月)
坐标:美国 Kings County
全名: Julia Comita
Title:Still Life + Product Photographer
技能:Photography\Commercial Photography、Product Photography、Fashion Photography、Portrait Photography、Adobe Photoshop、Photo Retouching
费率:$320/hr (但在平台,全都以固定费率计价)
产品/服务:
Julia Comita is now available to teach photography and Photoshop. With tailor made classes to fit your needs, learn everything from basic exposure and composition to expert lighting and post-production. Julia is available to teach a wide range of styles, but specializes in beauty, portrait, fashion, and still life.
Based out of Brooklyn, classes range from $60/hr locally to $75/hr if travel in excess of 30 minutes is involved.
For 2 hours, a discount will be applied of 10%. Lessons are recommended at 90min - 2hrs.
It is preferred the student has their own equipment, however Julia will also bring hers for teaching purposes.
Classes are open to the public. Staff or parents are always welcome.
平台:Upwork
链接:
Overview:
I'm a Still Life Photographer. My experience includes shooting campaigns and social media for well established brands such as Oil of Olay and Laura Mercier, as well as launching brands including Supergoop! and Emilie Heathe.
In addition to stills, I also have experience shooting GIFs and some stop-motion, as well as directing video content.
With several years of experience under my belt, I am able to see a project from conception to completion and will be as involved as the client wants me to be. I enjoy tackling new challenges, bending light, and creating exciting and engaging content for this fast paced world.
工作和教育背景:
Employment history
Lead Photographer | Comita Studio, LLC.
June 2014 - Present
Lead photographer in my own business, Comita Studio, LLC. I manage everything from pre-production, to the shoot, to the post production. I welcome many types of photography, but specialize in beauty and still life.

My unique perspective, crisp light, and attention to detail have given me the opportunity to work with editorial and advertising clients such as Bobbi Brown, Uniqlo, Covergirl, Pepsi, James Allen, Battington Lashes, Plastik, Nylon Japan, Vice, The Impression, and Satellite Journal to name a few. less

Digital Technician + Retoucher | Billy Kidd Studio
January 2013 - December 2015
Digital technician, went on set in studio + on location (including international travel) to manage the Capture work flow.

Acted as head retoucher on 3 international campaigns and several editorials.

Freelance from 2013-2015, full-time for the entirety of 2015. less

Digital Tech | Freelance
November 2011 - December 2014
Freelance digital technician, went on set with multiple photographers in studio + on location (including international travel) to manage their Capture work flow.

Education
Bachelor of Fine Arts (B.F.A.), Fine Art Photography | Academy of Art University
2006 - 2011
超哥短评:
2011年美国旧金山艺术大学艺术摄影专业本科,毕业后先做了3年的自由职业,和摄影师合作,也有一些国际的商务旅行。2014年开始成立了自己的摄影工作室Comita,承接独立的项目。
她的优势(自称)在于自己独特的视角、用光,以及对细节的追求。
重要客户包括了很多的大牌公司,比如Bobbi Brown、Uniqlo、Pepsi等。
2014年国内就有人发现了她发表的作品,并把它们转发在豆瓣上
Julia Comita,美国摄影师,现居旧金山,她执迷于传统胶片摄影。最近她开始在探索与数字媒介的融合。其作品以女性主体为主题,常常探究内在矛盾的美丽,呈现出超现实主义摄影风格。
https://site.douban.com/108148/widget/notes/164013/note/445314455/
Julia 2018年才开始Upwork平台的接单生涯,但是仅仅依靠8个项目,从2018年6月到2019年10月,一年多一点点的时间,就获得了将近18万美金的成绩。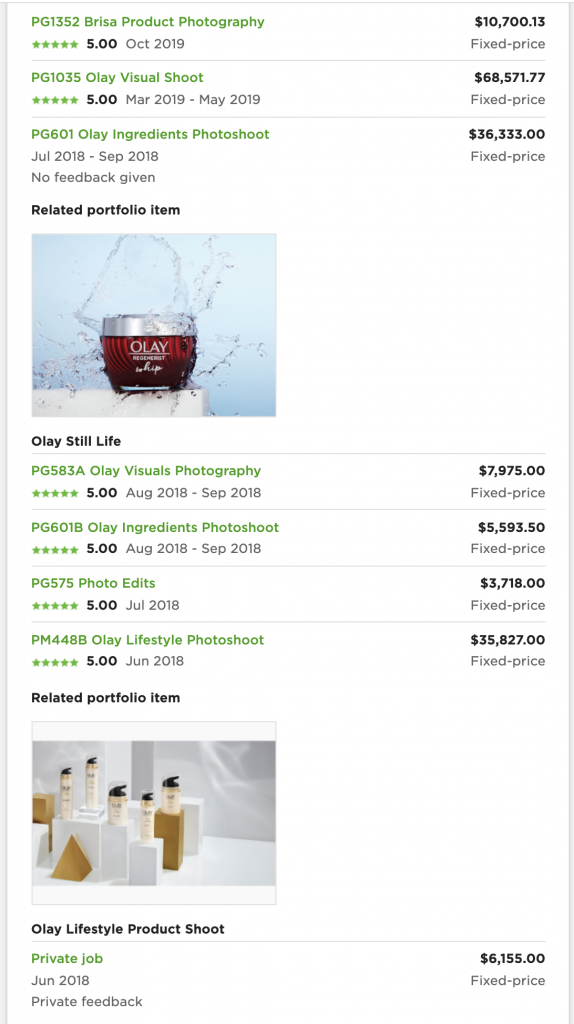 优秀的商业摄影师往往可以得到比较高的报酬,我们可以看到,Julia的品牌产品摄影,单个项目就可能达到数万美金的金额。
关键是,还很有趣:)
"This was a super fun job. They client provided an exciting brief and we worked together to achieve the best possible images for their needs. It's always a dialogue with Olay and feels like a true collaborative effort. I would absolutely recommend working with their team to anyone."
"Olay is a great client to work with. They set reasonable expectations for work that is fun and also creatively challenging. Their ideas are fresh and they are open to feedback/ideas making it a collaborative effort - a rare trait! I am very much looking forward to the opportunity to work with them again in the future."
客户的需求,和Julia在用光、创意风格上的努力
My client wanted seasonal and flexible imagery to support their product in an illustrative way. I utilized several different qualities of light and worked to design images with the props stylist and creative director so that we were able to successfully execute dozens of images for different uses.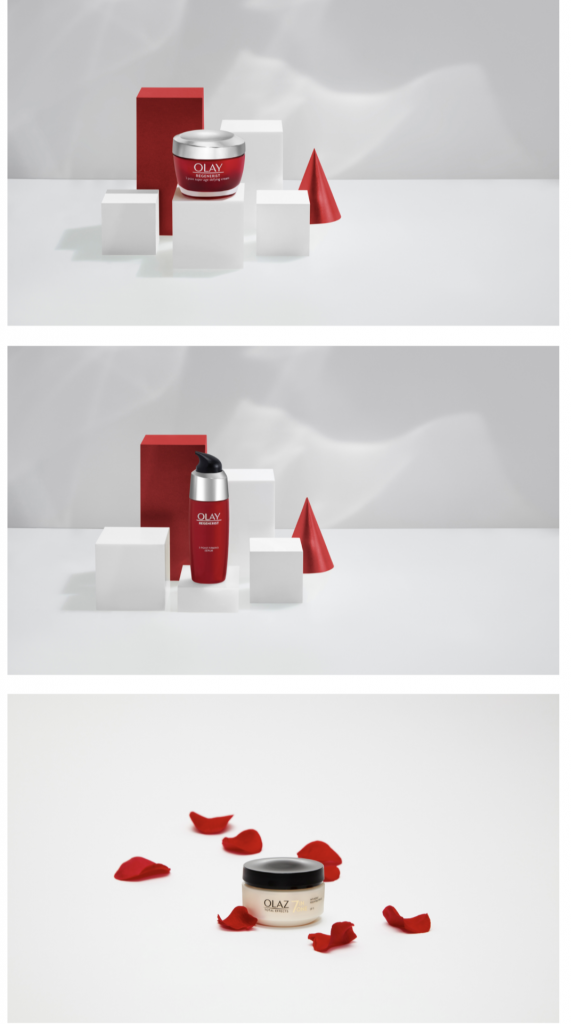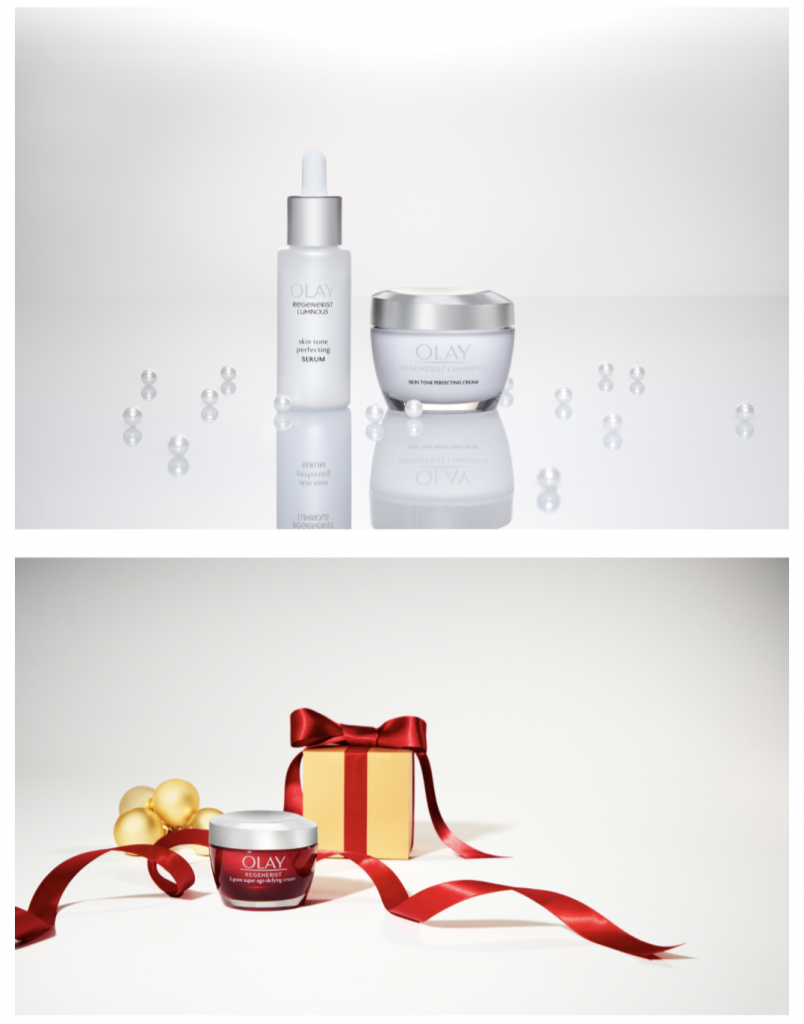 同一个客户给了她持续的项目,持续的大项目。
看看她的其他作品。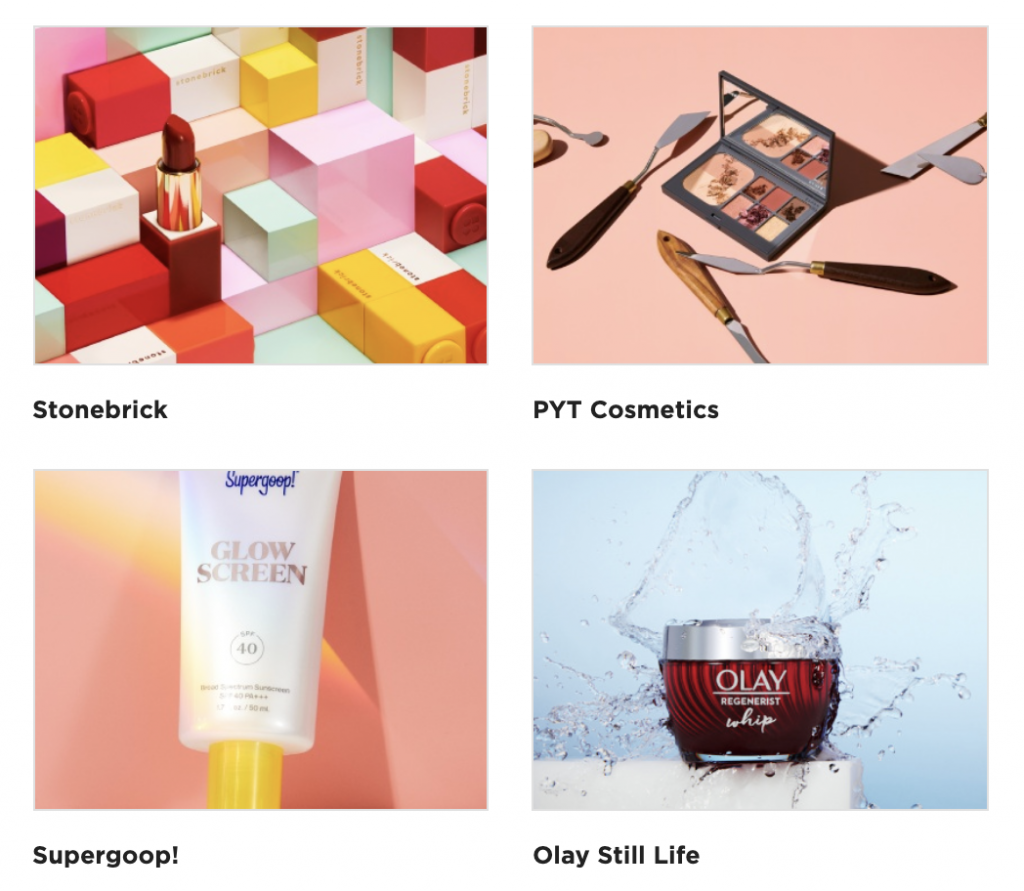 在项目计费上,她全都采用了固定费率,并没有用小时费率。
高高的小时费率和优质的大项目,帮助她树立了高品质的专业形象。
专业的摄影师拿作品说话,在她的网站上,分享了更多的成功案例。
有很多动画GIF,也是非常可爱。

除了承接客户项目,她还开班了摄影教学,做一些线下的摄影指导。
另外,她还拍摄了一个专题系列的视频"如何变美":)
Julia的故事,给了你什么启发?欢迎留言,或者找我聊一聊。